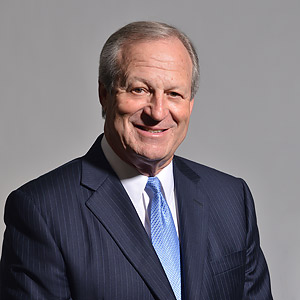 John T. McAdams
Chancery Clerk
Welcome to the Harrison County Chancery Clerk's website!
Over 40 employees in our Gulfport and Biloxi offices are ready to serve you!
On this site you will find a separate page for each department in our office, with descriptions of its duties, contact information by address, email or telephone and other pertinent information.
John T. McAdams, Chancery Clerk
Duties and Responsibilities
The Chancery Clerk occupies perhaps the most unique and diverse office in all of Mississippi government. The various duties given the Chancery Clerk by statute, or assumed voluntarily by the individual Clerk, cover a wide range of vitally important functions. The duties and functions of the Chancery Clerk are governed by an elaborate assortment of statutes and court rules, along with procedures established either by the State Department of Audit or the Department of Finance and Administration.
As the Clerk of the Board of Supervisors, he records the official minutes. As Treasurer, the Clerk prepares the claims docket and payrolls for all departments of the County, and after Board approval, he writes and signs checks for payments. As public recorder, the Clerk handles the recording and storage of several types of documents and maintains various indexes which aid people in researching these records. The primary records are deeds and mortgages relating to real property, but the Clerk also records construction and condominium liens, federal tax liens, lis pendens (notices of pending lawsuits) and military discharges. The Clerk is in charge of the storage and authorized disposal of older land rolls, tax receipts and many other County records after their active use lifespan. As Clerk of the Chancery Court, the Clerk handles a multitude of tasks such as matters of estates, guardianships, conservatorships, divorces, child custody, adoption, property disputes and other matters of equity.
Statutory duties of the Chancery Clerk
Clerk of the Board of Supervisors
County Treasurer
County Auditor
Recorder of real property
Clerk of land redemption
Clerk of Chancery Court

About John
Associate Degree - Mississippi Gulf Coast Community College
Bachelor of Science Degree - University of Southern Mississippi
Master of Science Degree - University of Southern Mississippi
Prior to beginning his political career in 1987 when he was elected Harrison County Justice Court Judge, John McAdams served five years as a Harrison County Deputy Sheriff, four as a uniformed patrolman and one as a criminal investigator. He served as Justice Court Judge for eight years, thereafter being elected Chancery Clerk and taking office in January 1996. He has overseen many improvements in the operation of the Chancery Clerk's office. One of his first acts was to hire a Certified Public Accountant as Chief Deputy Clerk to help manage the county's money. This includes depositing tax money collected into interest-bearing accounts.
McAdams began a records management program for Harrison County and encouraged the Board of Supervisors to authorize collecting a $1 records management fee on all documents recorded, the first county in the state to do so. (See the Records Management page for more details.)
Thanks to the salary cap on fee-paid officials, McAdams has been able to turn over to Harrison County nearly $1.5M in fees since taking office, which funds have helped establish a countywide digital imaging system for land recordings, all court files, county claims, and Minutes of the Board of Supervisors.
McAdams is a member of the
Property Records Industry Association (PRIA)
, a partnership of business and government members with the goal of facilitating recordation and access to public property records. He also serves on the National Board of Directors, and as a co-chair of the Land Records Committee of the National Association of County Recorders, Election Officials and Clerks (NACRC). NACRA is a professional organization of elected and appointed county administrative officials, which provides its members continuing education and opportunities to exchange ideas and information on a national level. He is a member of the International Association of Clerks, Records, Elected Officials and Treasurers (IACREOT) which offers members opportunities to exchange ideas, elevate standards through education, develop efficient ways to serve the public and promote the ethics of public service, while developing contacts in furtherance of the profession. He currently serves on the Legislative Committee of the Mississippi Chancery Clerks Association and was instrumental in the establishment of statewide uniform real estate documents legislation, which became effective July 1, 2009.
Click here for
Format for Deeds
which contains Section 89-5-24, Miss. Code of 1972, Annotated, and a sample Warranty Deed in the new format.
In 2012 McAdams was appointed by the
Mississippi Chancery Clerks Association
to serve as a commissioner on the Mississippi E-Recording Commission, which establishes state-wide rules and standards for Chancery Clerks who choose to offer e-recordings of land records. See Electronic Recording Commission: Rules and Standards.
Current and Completed Projects
In 1997 McAdams was instrumental in establishing a countywide records management program.
In 2001-02 the Genealogical Society of Utah, in conjunction with the
Mississippi Department of Archives and History
, sponsored a 14-month project microfilming Harrison County's older deed, marriage, voter registration and Chancery Court records, along with several other miscellaneous records, including Confederate pension records, totaling nearly 525,000 images. Local and GSU volunteers flattened and repaired court files and compiled indexes to several County record series dating from 1841 to 1950. The original records are still preserved here while microfilm copies are available at the Department of Archives and History and through GSU. In the records vault of the Chancery Clerk's Office in Gulfport you will find notebooks containing historical and genealogy information obtained from probate records, 1841-1915. These books contain the names of the decedent, the administrator/executor of the estate, the heirs of the deceased, the devisees under the will filed for probate, and any debtor or creditor of the estate. These extractions are a valuable tool in genealogical research of the early records of Harrison County.
On March 15, 2004, the Chancery Clerk's Office implemented a computerized deed imaging system which eliminates the need for hard copy books and also established the first and only E-commerce site for purchasing land record documents on line. Imaging helps the office deal with space problems due to the increasing volume of deeds and mortgages being filed while providing backups for the hard copy books in case they are damaged. These images, along with existing deed records back to 1985, are also available via this website.
In 2005 the Harrison County Board of Supervisors adopted a countywide records management policy, requested by this office. This policy establishes procedures for storage and preservation of inactive county records. The county has approximately 40,000 cubic feet of permanent inactive records stored at two designated offsite storage facilities.
In April 2006, McAdams initiated digital court filings in Chancery Court, making court files accessible to judges, attorneys and clerks, thus creating a more efficient method of management of records.
Beginning November 2006, the Chancery Clerk, as Clerk of the Board of Supervisors, implemented a computerized imaging system to scan the Minutes of the Board of Supervisors. This is an ongoing process, and as time permits the Minutes prior to November 2006 are being scanned by the Minutes Clerk. Click here to view "
Board Minutes Online
".
In 2009, McAdams was authorized by the United States Department of State to be an accepted facility to provide passport services for residents of Harrison County. McAdam's office has averaged over a thousand passport applications each year since.
In 2011 the Supreme Court named Harrison County Chancery Court as a pilot county for Mississippi Electronic Courts (MEC). As of December 2011 the Chancery Court Department has converted over three million digital court records to MEC.
In 2013 all First Judicial District sectional index books were rebound and digitally scanned for future electronic viewing. A similar project is being planned for the Second Judicial District.
County claims are now electronically generated with digital backup of claims and laser printer technology for all checks issued. Digital backup of claims is more efficient and accessible for auditing purposes. All subdivision plats have been scanned and a digital copy is available for easy access and reproduction. As time permits, hard copies of all documents are being digitally scanned for easy and efficient access. Additional computers have been added in the records vaults of both the First and Second Judicial District Courthouses for public use in accessing the land records. Employees of the First and Second Judicial District recording departments are in the process of back scanning deeds and deeds of trust to the year 1983, converting these records to digital format for easy accessibility to the public.
Employees are also making digital records of construction liens, lis pendens notices, Federal tax liens, and Charters of Incorporation.
The Land Redemption Department is currently working on program modifications to develop programs to help streamline the research necessary for tax sale maturities and notifications to property owners.
On April 1, 2014, the Chancery Clerk's office began accepting electronic recording of land records in both Judicial Districts. For information see http://www.simplifile.com or contact Barbara McLean at 865-599-014.